Childhood and Grand Tour
Thomas hope was a Dutch and British merchant, author, banker, philosopher and also an important art collector and art patron. He was born in Amsterdam in 1769 and died in London in 1830. Hope was a descendant of an old Scottish wealthy banking family who had settled in Holland. During his childhood, as he lived in Amsterdam and Heemstede, he acquired a certain taste for arts in general. After the death of his father, young Thomas began to devote to the study of arts, especially classical architecture of ancient civilizations.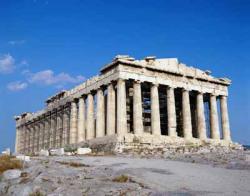 Hope set off on a Grand Tour during which he traveled through Italy and Spain, but then in more "tumultuous" destinations such as Asia and Africa. He spent the beginning of his adulthood travelling as a student learning about cultures and architecture. After the death of his mother from whom he had inherited his taste for esthetics Hope took up his Grand Tour and went through Syria, Arabic countries, Rhodes…

He remained for about a year in Constantinople where he developed his skills in drawing. He sketched nearly three hundred and fifty drawings about the rich and powerful Ottoman people's life style, whom he observed as he took a journey in Turkey. Those drawings are now part of the Benaki Museum's collections in Athens.